Nutritional refreshments along the Eiger Ultra Trail routes are provided by local producers and our NEW nutrition partner Näak. With the wide range of products available we will cover the individual needs of all our athletes.
For E101 competitors, we serve the choice of a warm pasta dish and boiled salted potatoes in Burglauenen. The larger refreshment posts provide locally produced dried meats, Biberli, nuts, fresh and dried fruits, savoury crackers and traditional mountain cheese made in Grindelwald. Finishers can also enjoy some 'Super Gold' awarded mountain cheese produced by the local Eigermilch dairy.
We are now offering a homemade, warm soup at the First, Männlichen and Alpiglen refreshment post. The soup is freshly made by the respective mountain restaurant. The soup is vegetarian.
A special highlight are the delicacies with which the athletes are spoiled on the E250 - UNESCO Trail route. Each region presents itself with their specialties!
In accordance with the Semi Self Support Principle, drink cups are not available at refreshment Zones on E101, E51 and E35. Competitors can carry their own drinking cup. We serve coffee, bouillon and soup in special cups.



Supply Plan
Supply Plan E101 | E51 | E35 & E16
Supply Plan E250
Local Cheese
OUR MOUNTAIN CHEESE - ENJOYMENT AND COMMITMENT
The Eiger Ultra Trail competitors enjoy over 60 kilograms in total of local mountain cheese at the refreshment posts along the race routes each year – a testament to the Grindelwald farmers who produce the cheese on their nearby mountain farms, or 'Alps' as they are locally known. We are proud to have social responsibility and sustainability at its core.
Näak
UTMB ® World Series has partnered with Näak, the performance nutrition and hydration brand made for trail and ultra-runners, to bring sustainable fuel to the global trail running community. As Official On Course Sports Nutrition and Sports Hydration Supplier of the UTMB World Series, Näak will provide energy bars, waffles and drink mixes at aid stations across all 35 UTMB World Series Events globally, including at the pinnacle event of the year, the UTMB World Series Finals at UTMB Mont-Blanc. Thanks to Näak's expanding product portfolio, gels and purees will also be available later in the year. The products deliver long-lasting energy powered by high quality and sustainable ingredients, helping runners go longer and farther. Näak will also provide nutrition plans through their app to all runners to aid their preparation.
UTMB Group CEO Frédéric Lénart said: "With Näak becoming a global supplier of the UTMB World Series, we want to bring a new nutrition and hydration experience to our trail running community throughout the world. Näak's expertise in sports nutrition will help us to provide a diverse range of nutrition products across all distances to our runners. We are very proud to welcome a second brand to our ecosystem with a B Corp Certification."
Näak at the Eiger Ultra Trail: Check the supply plan to find out at which aid station you will be offered Näak products.
QRAFT Cookies from Grindelwald
The story of QRAFT begins with love: for each other, for nature and for sporting adventure. Nadja and Oliver managed the adventure on their 12-day road trip on a bicycle from Switzerland to Spain, powered by pure muscle power. In their luggage was the prototype of the energy cookie. These delivered what the couple hoped they would: naturally concentrated energy rations as a healthy snack. After 2000 km in the saddle, the buttocks, back, shoulders and calves hurt, but not the stomach.
So the energy cookie, which had been tested thoroughly, was launched on the market shortly afterwards in four flavours. Since 2019, the energy cookies, then still under the name MEL et FEL, have been on the market and are the official nutrition partner of the Eiger Ultra Trail. Every year, around 5000 pieces of bundled power are produced for runners from all over the world.
QRAFT cookies combine the attributes of quality, Swissness and sustainability and are available in four different varieties. All ingredients are organic, high-quality, handweighed, mixed, blended and packaged. The ingredients are purely natural, because it is known that naturalness can develop its true taste without any additives. They are also certified organic, vegan and free of any additives. Under the newly launched brand QRAFT, Oliver and Nadja have been offering a fine and qualitative selection of treats and natural products in their shop QRAFTwerk in the heart of Grindelwald (Dorfstrasse 123) since December 22.


Apple & Almond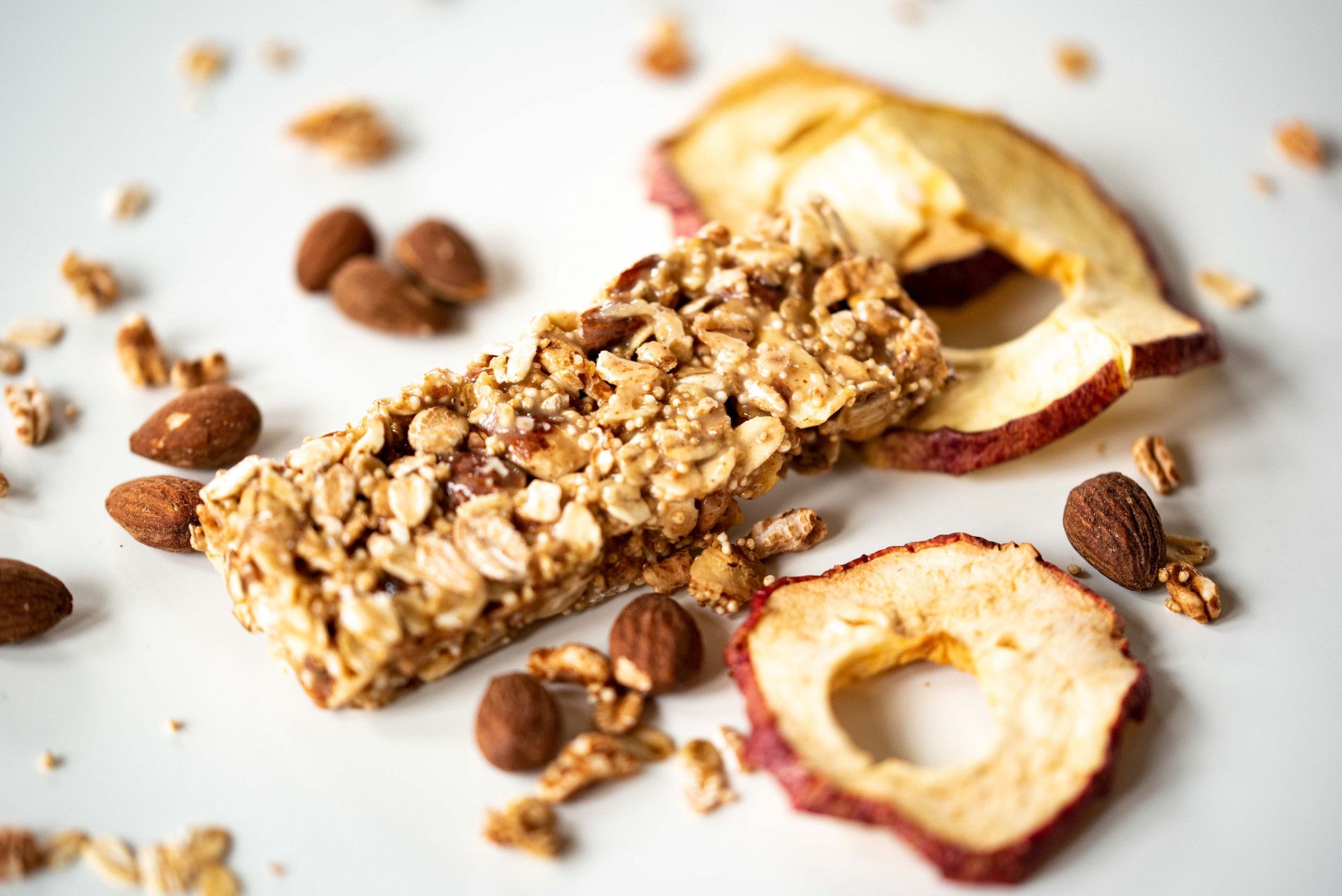 The classic, the Crunchy-Granola meets classic apple pieces and the crunchy roasted almonds deliver a powerful nutty taste.


Salty Peanut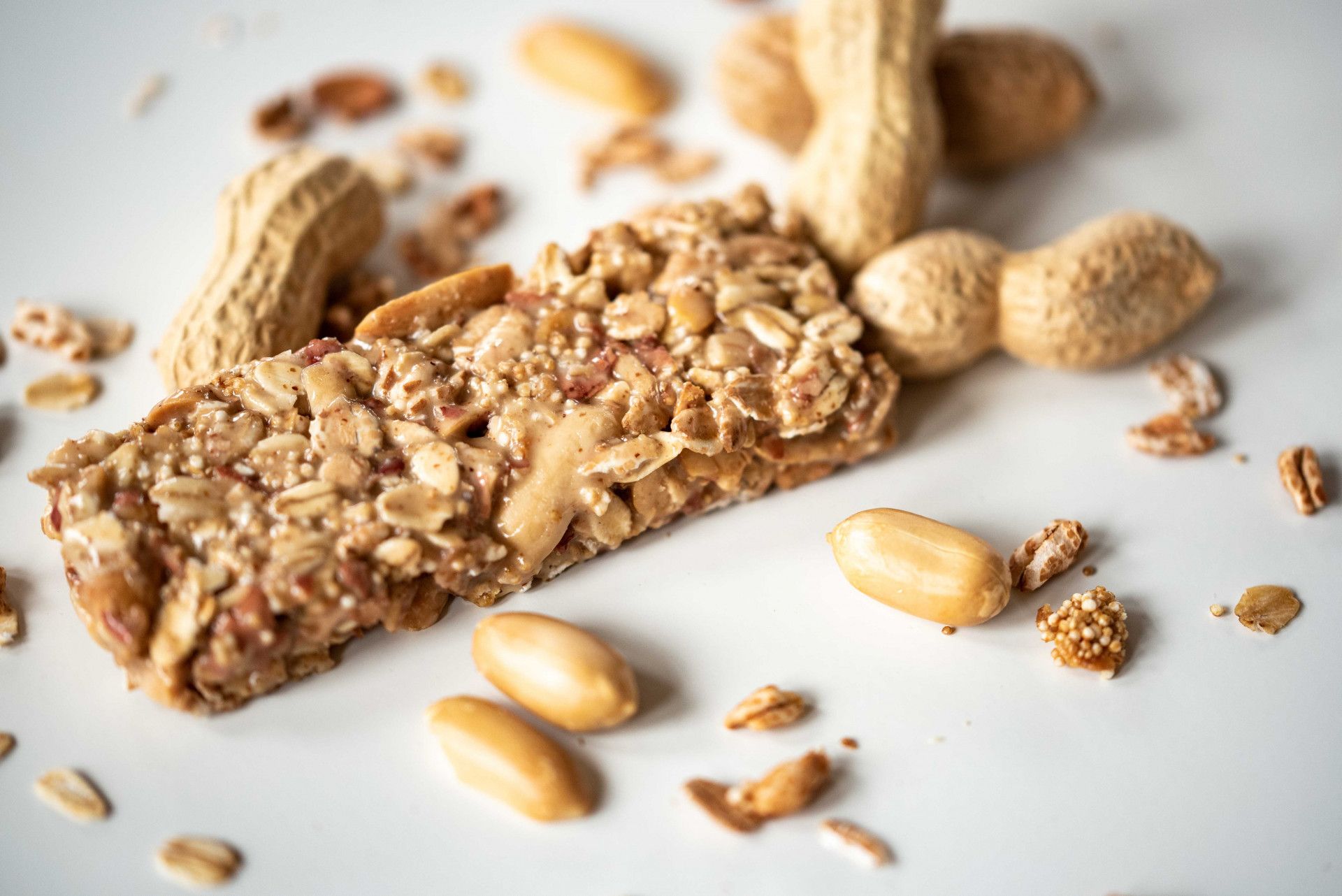 The Salty is made from natural organic peanuts and Crunchy-Granola. A pinch of salt completes this natural bar and makes it perfectly exciting.