14th July 2023
Trail Surprise
A trail run should be full of surprises, so why not branch out from the five established race routes and discover what other trail delights Grindelwald has to offer?
We have been bouncing around ideas for a race concept to include some of our favourite trail points, which are nearly forgotten nowadays and have created the 'Trail Surprise'. The 'Surprise' element is that the altitude profile and the situation of the refreshment point will only be published 3 days before the race! Under the motto 'A new surprise every year' the trail length will be 10 to 15km with a height profile of 500 to 1000m and will also start and finish in the event area in Grindelwald. The trail surprise is held on the Friday of the event weekend.
Although the clock is ticking, the focus really is on fun and the shared experience along the beautiful and perhaps lesser-known trails around Grindelwald. The new race was conceived specifically with the relatives and supporters of runners in mind, as well as for trail fans from around the world. So the only thing you should be asking yourself is if you are ready for a trail surprise!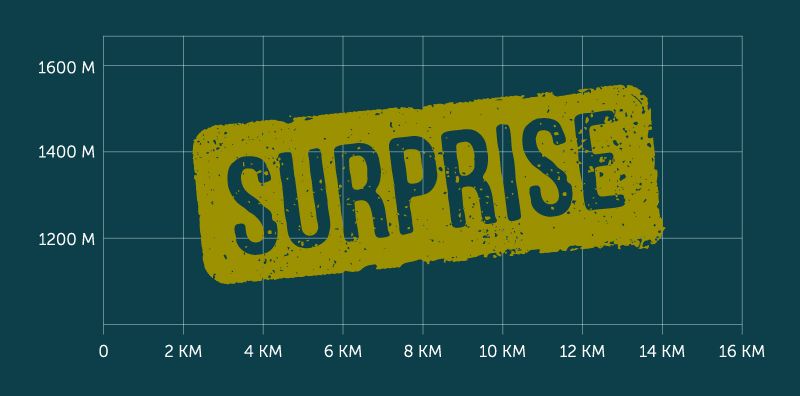 Technical Data
Distance 10 - 15km Height difference 500 - 1'000m with start and finish at the event area.


Requirements
A good physical condition and experience in trail running are required to undertake the Trail Surprise. The main aim of this race is for participants to have fun! As a competitor you must be able to complete the race in a partial self-sufficiency according to the ethics of trail running. We reserve the right to exclude persons from participating the race.


Start/Finish Date & Time
Start: Friday, 14 July 2023 at 12:30
Finish: 14 July 2023 at 16:30 (Time limit 4 hrs).


Award ceremony
Friday, 14 July 2023 16:45.


Entry Fee
CHF 40.00
Price inclusive of VAT. +8% Processing fee by Activ will be added at check-out.


Late entries in the week of the event
Provided the race is not Sold Out, we will accept your late entry from Monday 10 July 2023 12.00 to Friday 14 July 2023 11.00 with a surcharge of CHF 15.00.


Maximum Number of competitors
200 participants.


Mandatory Equipment
There is no mandatory equipment for the Trail Surprise.


Refreshment
Participants are advised to carry a trail running backpack containing their own food and drinks. Along the route there is a refreshment zone with various supplies such as water, sports drink, bananas and energy bars. Later on before the event, our race organisers may decide to add additional refreshment zones.


Services Provided
Race Route Infrastructure, Time-keeping, Safety Management, Emergency phone number, Paramedic services, Dressing Room, Shower, 1 refreshment points, tracking by mobilephone, Souvenir gift, Finisher Eiger stone and finisher t-shirt, Exhibition Village.